SKIN
How To Take Stunning Nude Photos
The Complete Guide To Nude Photography
Are your nude pics looking a little too amateurish?  This instant download book will show you how to take stunning nude photos.
Whether you simply want to take better nude pictures of your girlfriend, are a serious hobbyist looking for advanced tips, or a professional photographer looking for advice from a star in the field, this book by award-winning nude photography expert Michael Charles will help you take the kind of stunning, professional-quality nude photos that appear in men's magazines and on the finest adult websites. The first step in producing erotic pictures is…
Finding Beautiful Women Who Will Pose Naked For You.
One of the most challenging aspects of nude photography is getting a steady supply of beautiful women willing to take their clothes off in front of your camera.  Most guys have no idea how to get women they know to pose naked, let alone asking strange women they've never met.  Yet, it's a relatively simple thing to do.  In The Guide To Nude Photography, you'll find a step-by-step method to recruiting beautiful women to model for you.  It includes great tips on getting the most out of modeling agencies and coming up with an effective ad that attracts amateur and professional nude models. But the best part is that it shows you…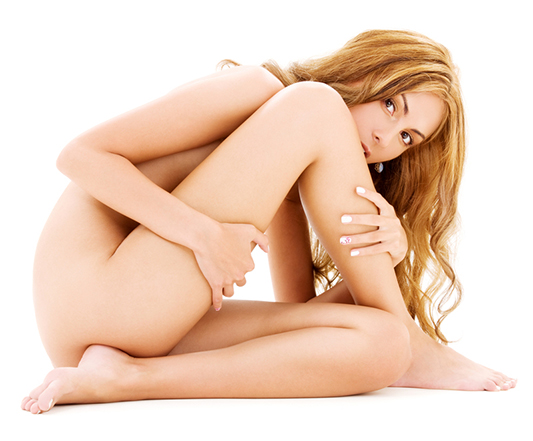 How To Approach Potential Nude Models In Public.
What if you don't have the money to deal with modeling agencies or you're not getting the kind of women you want through ads?  The best way to get the women you're looking for is to approach them in coffee shops, grocery stores, clubs, bars, bookstores, really anywhere.
You're probably thinking, "No way could I approach beautiful women and ask them to pose nude for me, a complete stranger!"  Well, guess what?  You can with the simple, calm pointers you'll find in this chapter. You won't believe how simple it is with Michael Charles' "Five Point Plan To Recruiting Nude Models In Public."  He's been approaching women for years and they rarely turn him down.  Find out how you too can identify the unmistakable signs of women who would be willing to pose naked, develop the confidence to approach them, and learn the right things to say.  You'll be able to establish the shoot date right then and there.
How Much Should You Pay Your Models?
There really is a going rate and you'll find out what it is in this chapter.  But more than that you'll also find out the best way to structure the compensation (Hourly? Package rate? Barter?).  You'll also get advice on what the industry calls "TFP" payments ("Time-for-Print"), which essentially means that in lieu of money she gets copies of the photos.  Heed Charles' advice though; learn how to protect yourself in this arrangement.  It's important that you pay your nude models promptly and professionally because they are your ticket to other nude model referrals.
Should You Use Adult Modeling Agencies For Your Nude Photo Shoots?
Read a frank discussion on the positives and negatives of using modeling agencies to supply you with suitable women.  Find out who the real players are (like onemodelplace.com and sexyjobs.com).  They all operate in different ways with differing limitations (topless only, etc.).  Michael Charles has worked with models in every agency imaginable.  Benefit from his experience—learn the ins and outs of using adult modeling agencies.
How To Advertise For Nude Models.
It's pretty straightforward, but beware the potholes.  This chapter shows you the best places to advertise (did you know college newspapers have some of the highest response rates?) and what the ad should say for maximum response.  Bonus!  See examples of Michael Charles' highly effective ads for nude models.  You can copy it word-for-word and use it for yourself.
 How To Take Nude Pictures
Lesson #1:  Buy The Right Gear

The Best Cameras For Nude Photography.
No question high-quality, state-of-the-art equipment is helpful, but forget the idea that it is necessary.  Michael Charles believes, "It's the archer, not the arrow."  Your skills behind the camera are more important than the camera itself.  His philosophy:  "Your imagination is the most important piece of equipment you own."
That said, you're going to get a full-on recommendation of highly-affordable cameras that get the job done.  You'll also get advice on camera capabilities you'll definitely want, like a larger sensor size (it's true—bigger is better!), interchangeable lenses, external light source compatibility, and video capability, You'll also learn the differences between image file formats (JPEG, TIFF, GIF, RAW) and how to choose which one is appropriate for your project.
The Best Lenses, Lighting Equipment And Gear For Nude Photography.
Michael Charles believes the quality of the lens is more important to the sharpness and clarity of a photograph than the camera itself.  After all, it's the lens that contains the glass that light passes through to create an image.  That's why he spends a fair amount of time talking to you about different kinds of lenses (zoom vs "fixed focal length" for example), the best ones to use and how to use them to get the effect you're looking for.  You'll see detailed erotic photos and how different lenses change perspectives. Learn which focal lengths are referred to as "normal" because they most closely match the field of view of the human eye and how to set them up or down to achieve different compositional choices.  You'll even find out why most of the best nude photography is done within a focal length range of 24 millimeters to 120 millimeters.
Click here to grab your copy of Skin:  How To Take Stunning Nude Photos.  The Complete Guide To Nude Photography.  It instantly downloads as a PDF file so you can start reading it in sixty seconds flat.
How To Shoot Nudes
Lesson #2:  Lighting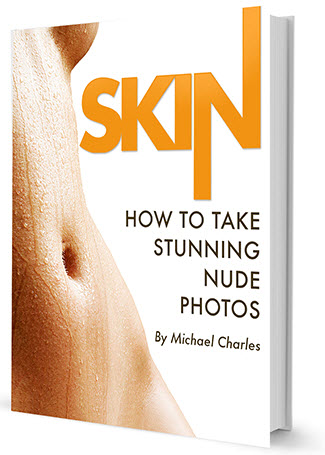 The Best Tools For Lighting The Naked Female Form.
There are two basic sources of light—'natural' (the sun) and 'artificial' (on-camera flashes or anything that plugs in).  But there are infinite ways of using these two sources.  Learn the concepts behind "The Magic Hour" and the pluses and minuses of "hot lights."  Learn how to manipulate different types of light.  You'll even see a simple exercise that will completely give you an Aha! Moment on how artificial light works.  Find out how to position light sources for tungsten lights, "barn-door," studio flash systems, individual and multiple flash heads advantages and disadvantages, sync cords, "pack-and-head" and mono-light systems.
You'll also see photographs of the different kinds of lights so you know exactly what, for example, photographic umbrellas, diffusion panels, and soft boxes actually look like.  And lastly, find out exactly what kind of lighting Michael Charles uses to produce his exquisite nude pictures.  Includes pictures of nude models photographed using different lighting techniques.
Lighting The Naked Woman.
Now that you've got the right lighting equipment for nude photographs, what's the best way of using them?  In this chapter you'll learn nude lighting terms you'll need to know, from "available light" to bounced and fill light.  You'll see pictorials showcasing three great lighting styles for shooting female nudes.  Bonus!  Ever look at a great nude pic and wonder what kind of lighting the photographer used?  Michael Charles explains how to figure it out by simply looking closely at the eyes of the model.
Other Must-Have Gear To Create Eye-Popping Images.
From traditional tripods to single-legged "monopods", Michael Charles will guide you through the options (like simple, lightweight and easily transportable backdrop support systems) and arrive at recommendations.  You'll also get a primer on the latest styles of using backdrops—the best materials and how to arrange them for maximum effect.
One thing you'll find refreshing about Michael's philosophy is that you don't have to spend a lot of money to create professional nude photos.  Listen to what he says in the book:
"Until a camera is invented with the ability to be creative and imaginative, the burden of producing excellent images will continue to rest on the shoulders of the one using the equipment, the photographer. Thus, if your main goal is to capture excellent images of the nude female form, I suggest you spend the majority of your time and energy on the creative factors involved in the process, rather then endlessly thinking about better and more complex equipment."
Click here to grab your copy of Skin:  How To Take Stunning Nude Photos.  The Complete Guide To Nude Photography.  It's only $29 and it comes with three bonus gifts worth $50:
SKIN Comes With Three Free Bonuses
An eBook titled, A Beginner's Guide To Making Money With Nude Photography
An eBook titled, Case Studies In Nude Photography: What Makes These Pictures Work?
And a 20-minute instructional video where you'll see gorgeous nude models talk directly to you about the best ways to conduct a shoot.
How To Photograph Nudes.
Lesson #3:  The Art Of Composition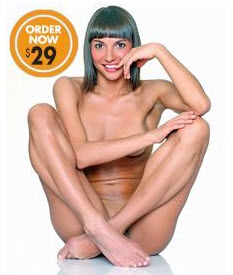 "The Exposure Triangle" And Other Professional Nude Secrets.
Composition is the art of placing and positioning elements to form a whole.  What you include in the frame and how you include it contributes to the success of a shot.  In this chapter you'll learn about "The Exposure Triangle," "The Rule Of Thirds," and other professional nude secrets.  You'll learn how to arrange tangible objects, complete with pictures showcasing different composition styles.  You'll learn how to use horizontals, verticals and diagonals to create wildly erotic images.  Charles will teach you how to take advantage of focal length to create interesting perspectives and add more depth to images, or even how to flatten them.  "Shallow focus," "classic glamour," "depth of field," you'll learn these and other methods of controlling exposure to create exquisite nude images.
How To Create Sets For Your Nude Images.
Think of "set design" as simply creating a good environment for your images.  You're not going to get overly complicated, intricate, excessively planned approaches.  In fact, you're going to be surprised at how Charles' "less is more" approach can simplify your life and heighten the quality of your pictures.  You can significantly change the look of one set to another simply by putting a piece of furniture at a different angle, for example.  Also, learn the pros and cons of props.
How To Take Nude Photos.
Lesson #4:  Wardrobe, Hair & Makeup.
Wardrobe, Makeup And Hair Tips To Make Your Pictures Pop.
How do you match the wardrobe style to the overall theme of the set you're shooting?  Typically models will bring the wardrobe you request, but you still need to know what to request.  You should also build up a little wardrobe collection yourself for emergencies.  In this chapter you'll get simple wardrobe advice and see pictures of how simple wardrobe choices can produce dramatic and sensual images.  And don't worry, you don't need to be an expert in makeup and hair. Charles isn't, and it's never stopped him from producing great images. Hot tip:  Plan the shoot in a way that allows makeup to be added—not subtracted—as the shoot progresses.
Other Nude Photography Tips
Discovering Your Specialties:  Popular Nude Photography Styles.
Most photographers find themselves gravitating toward specific niches.  In this section, Charles breaks down popular genres like "Young Models," "Legs And Feet," and "MILFS" by highlighting the typical characteristics of that kind of shoot.  The genres include Glamour Nudes, Ethnic Models, Busty Models, Fetish and many more.
Post-Production Techniques For Nude Photography.
From stray hairs to minor skin imperfections, you'll get invaluable advice on editing, cropping, sharpening, contrast adjustment, and retouching.
Four Critical Aspects Of Planning An Erotic Shoot.
Only amateurs wing it.  Arm yourself with the knowledge and experience of a pro.  Learn how mastering  "Image Sets" and "set patterns and progressions" can save you hours of agonizingly slow shoots.  Do you know how many images you should shoot in a set?  Charles tells you in this chapter.  You'll also get a list of questions to ask yourself in preparation for a shoot, a pre-shoot checklist and a plan for corralling the time-consuming variables that come into play during a typical photo shoot.
Click here to grab your copy of Skin:  How To Take Stunning Nude Photos.  The Complete Guide To Nude Photography.  It's only $29.  Download it right now and start improving your nude photography skills right away.
The Best Ways To Help Your Nude Models Feel Comfortable.
Even experienced models get a bit anxious or nervous.  Find out how Michael Charles creates a calm but vibrant environment.  You'll get a lot of advice on developing a good rapport with your models.  Hot tip:  Keep an eye out for her car, meet her outside and carry any bags or suitcases she brought with her.  By simply doing this, you'll already have shown her more respect than most photographers she's worked with and she'll likely work extra hard for you.
In this section, you'll find a step-by-step guide to making models feel comfortable enough to do their best work.  Bonus Tip!  How to handle the "Boyfriend Question,"  i.e. Should you let him be present during the shoot?

Proven Techniques For Posing And Directing Your Nude Models.
Poses that work well when shooting a "Teen" layout will usually be very different from ones that work well when shooting a "MILF" pictorial.  In addition, find out how to shoot more than one unique image while the model remains in a single pose.  You'll learn the art of explicit, open leg poses ("spread shots") and how to avoid making them look "gynecological."  This chapter is a complete guide to posing the female nude, from soft-core to hardcore and everything in between.
Knowing how to direct models well during a shot is a key ingredient to getting good results.  Through experience, you'll find your own directing style, though Charles offers priceless insights regarding how to direct beginners as well as experienced models.  You'll even see a detailed dialogue of how he directs a model to get the kind of shot he wants.  You'll see examples of hands-on and hands-off directional approaches and weigh the value of both.
The Four Most Effective Ways To End A Nude Photo Shoot.
Clicking the last image doesn't end the shoot.  There are things you can do to enhance the experience for all parties and set yourself up nicely to get models to gladly want to work with you again as well as provide you with referrals to their gorgeous friends.
Six Amazing Nude Photographers You Can Learn From.
See works and commentary from legendary nude photographers Helmut Newton, Ellen Von Unwerth, Bob Carlos Clark, Petter Hegre, Guido Argentini, and Richard Avery.  This is your chance to get a critical education from the masters.  Find out the secrets of their techniques.  You'll even get links to little-known websites that showcase their work.
How To Break Into The Business Of Professional Nude Photography.
There is a lot of money to be made in this business and Michael Charles is proof of it.  Get his unvarnished advice on breaking into the business.  From pricing your work to finding and contacting buyers to the importance of nude model releases, you'll get detailed accounts of the best business practices.  Bonus!  Get the word-for-word nude model release Michael Charles uses for all his shoots.  Why reinvent the wheel?  Just copy/paste and you're done.
Should You Go Out With Women Who Pose Naked For You?
It's easy to fall in love or lust with gorgeous women who pose naked for you.  Should you make a move or ask them out? This is a no-holds barred look at the risks and rewards of having a social connection with your models.  If you decide to move forward the tips in this chapter will help maximize your chances while preserving your professional integrity.
Are You Ready To Start Taking Stunning Nude Photos?