If you're interested in learning how to do nude photography to make some extra money, you should know that there's a huge market for images of "Teens." The models in this category are usually 18 or 19-year-olds (or women in their early 20s who can still pull off a younger look).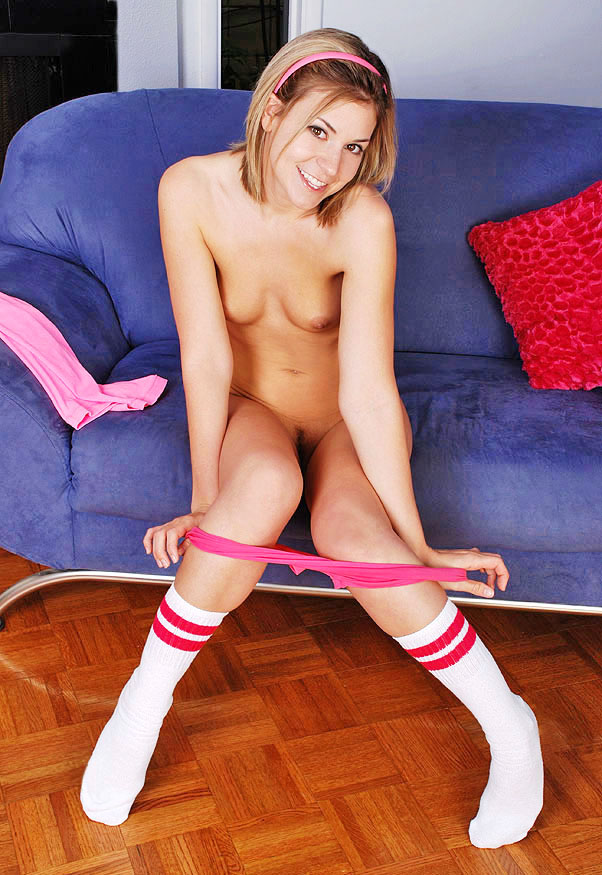 Like all niches, this one has certain photographic characteristics that fans of the genre like to see. And to be honest, this picture contains so many of those young and sugary characteristics that I'm starting to get a headache from just looking at it.
However, simply because this picture contains numerous "Teen" cliches doesn't mean it's a bad picture. In reality, it more likely means that it's a very marketable picture.
Let's take a look at some of the main factors that make this picture so ideal for the "Teen" category. First, the model in this shot has a very friendly and inviting facial expression (a big smile and great eye contact).
Additionally, when shooting "Teen" images, there are a number of nude photo ideas that will help you get the best shots. For example, you can't go wrong with the color pink; and this shot features a lot of it. The pink headband has a young vibe to it, the pink shirt is visible on the arm of the sofa, she's playfully tugging on her pink panties, and she's wearing socks with pink stripes.
The pose is also a very popular one for this particular niche: Her feet spread wide while her knees stay together conveys a shy and innocent feel, this is a highly appealing characteristic in "Teen" erotic photos and pictures.
Finally, you'll notice that her makeup is extremely light. Additionally, her hair is in a very simple style, her breasts are natural, and she has no tattoos or piercings.
Put all these things together and you have yourself a potentially profitable image.
If you have any comments about this post, please share them below.