When it comes to nude photography ideas, it's almost impossible to go wrong with the combination of a model with a fit body, a hot light that can be easily positioned, a mist bottle filled with water, and a light coating of baby oil.
This mixture has long been a reliable method for photographers of all abilities. The method works well whether you're shooting traditional glamour shots or more abstract pics like the one seen here.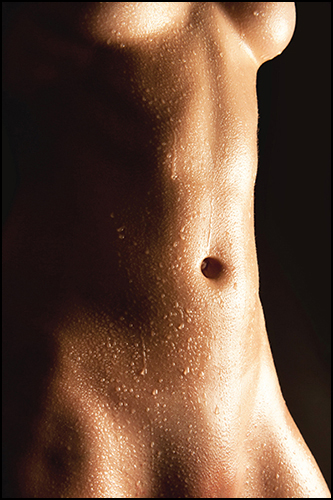 This particular image also serves as a great example of pushing the limits regarding the concept of nudity. While the shot is not explicit in any way, it definitely gets as close to the boundary as possible (especially with the bottom crop).
Technically, pictures of this type are relatively easy to do. You simply need the equipment described above, as well as a black backdrop that absorbs light, and a good feel for composition.
However, there is one important factor you'll need to take care of in order to get an image like this one. That factor is finding a model with a very fit body. The "hard" lighting used in this shot is ideal for accenting all the crevices and indentations that very fit bodies possess.
You'll find that women who are very serious about their fitness are good candidates for this type of image.